About Wendy
Born in Little Rock, raised in rural New Jersey then returned to Arkansas by 10th grade. Wendy learned very early how to adapt to many cultures and varying attitudes toward life.
After 1 year at UALR, the desire to care for others ruled her thoughts and drove her toward Emergency Medicine. While attending UAMS to become a Paramedic, Wendy started working with her mother, Sharon Welch-Blair, as an assistant to her New York Life insurance practice and joined Sharon on the adventure of opening Arkansas' first 4 Diamond Bed & Breakfast: The Empress of Little Rock. For 6 years Wendy worked part-time or volunteered in EMS and managed her Mom's businesses all the while raising two children, Jackie and Zack.
In April 2002, Wendy followed her mother's footsteps into one of the most admired financial services company in the world. Wendy and Sharon became the first female 2nd generation in New York Life history. Wendy won "Rookie of the Year" award in 2002 and was fortunate enough to share the stage with her Mom who won "Agent of the Year". Wendy went on to become an Annuity Champion, Executive Council and MDRT Member.
In 2005, Wendy experienced hardship through a divorce, which created a world of change and led to her changing direction and helping people/businesses through recruiting and placing finance professionals in some of the largest businesses in Oklahoma.
It was a long, winding road through business development, management and leadership that brought her back to New York Life. Wendy served as a two term President and Regional Director of the Accounting & Financial Women's Alliance, served as a director for Oklahoma City Human Resource Society, and was named "2016 Optimist of the Year" by the Downtown Oklahoma City Optimist Club. She currently serves as Co-Chair on the Satellite Rotary Club of Hot Springs Village.
Wendy considers herself a "Small Business Specialist" with knowledge and formal experience in Construction, Real Estate, Transportation, Hospitality, Financial Services, Human Resources, Benefits, Marketing and some Medical. With such a wide variety of knowledge she is very versatile in helping clients of all backgrounds.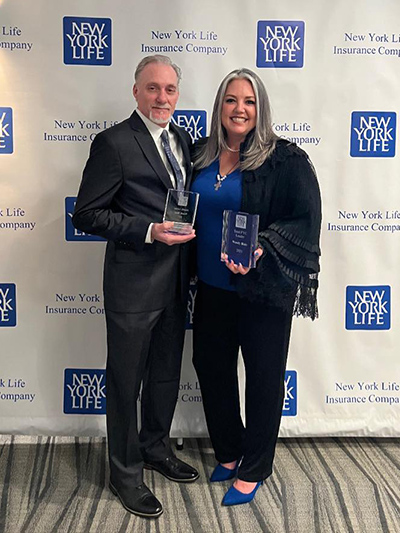 Wendy is married to T.J. Hutcheson and they reside in Hot Springs Village. Wendy has a strong desire to help people, a natural leader whose optimistic approach to teamwork has made her successful in business and sports. Wendy's hobbies include tennis, real estate and now golf. She spent 4 years captaining the USTA 3.5 18+ Women's Team for Memorial Park in Colorado Springs. Her team was successfully undefeated and named the Southern Colorado Champions in 2019 and 2020. On the real estate note Wendy has owned and flipped over 14 properties in Arkansas, Oklahoma, and Colorado.
Her main goal at this point, is to continue her Mother's legacy by being an architect of well designed, custom-tailored strategies for each of her clients.